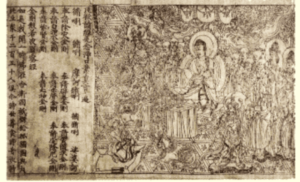 January 14, 21, 28 7528 Jenkin Place (Creek Bend Zendo)
February 4, 11, 25 Text: The Diamond Sutra
Sundays, 3 to 5 PM Contact: Sarah Bender sembender@gmail.com
Suggested dana: $60 for the series (bring to the first session)
In recent years, our community has found that taking up one of the foundational Buddhist sutras together has strengthened our understanding and practice of Zen in surprising ways. These ancient writings are often challenging, and one can wonder, at the outset, how they can meet us here—-how can these sometimes foreign-seeming texts help us with our oh-so-perplexing modern dilemmas?
They do. Not because they are historically important, or intellectually fascinating, but because they are transformative, if you are willing to really get down and dirty with them.
Here's what Red Pine, the translator whose work we'll lean on this time, says in his introduction, after spending a great deal of time getting intimate with this text.
The Diamond Sutra may look like a book, but it's really the body of the Buddha. It's also your body, my body, all possible bodies. But it's a body with nothing inside and nothing outside. It doesn't exist in space and time . Nor is it a construct of the mind. I'ts no mind. And yet because it's no mind, it has room for compassion.
Wait, what? This text, which fits into 27 pages, is all that? And already I don't get it.
Well, what if it's not about getting it, or for that matter not getting it?
What if this is really embodiment: an invitation to be in, to be next to and to be the body of Awakening? Is that not what we are longing for? A way to embody the awakening we so yearn to offer this suffering world, to be its body? What if this embodiment is to be found right inside the very gu of our own lives and the stuff of the world, and this funny book has some magic, "has room for compassion?"
I'm going for it: I'm ready to dive in again for the first time (since my notes seem like faint messages from another life, anyway) and invite you to join in.
Here's how we work: We'll be dividing the 27 pages of the text into 6 more or less even chunks, and we'll take up a chunk at each session. You'll be free to read as much of the section of corresponding commentary as you do.
At each session, we'll sit for a while in meditation, then I'll talk a bit (15 to 20 minutes) and then we'll gather dreams and have discussion.
Please respond to Sarah if you plan to attend. A copy of the Diamond Sutra will be sent to you via email.