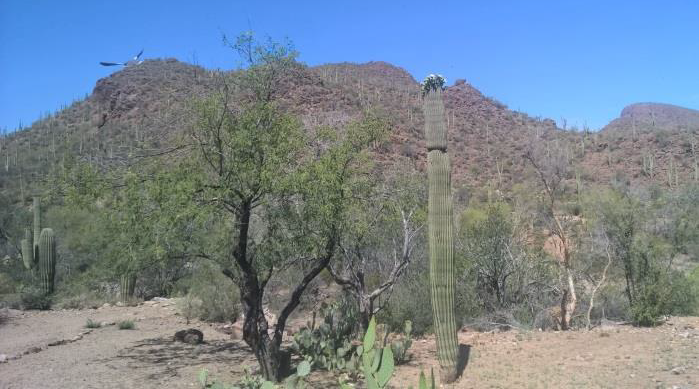 DESERT SUNRISE RETREAT
WITH TENNEY NATHANSON SENSEI
MARCH 6-11, 2018
REDEMPTORIST RENEWAL CENTER AT PICTURE ROCKS | TUCSON, ARIZONA
A splendid branch issues from the old plum tree
in time, obstructing thorns flourish everywhere
– Keizan (The Record of Transmitting the Light)
~  ~  ~  ~  ~  ~  ~  ~  ~  ~  ~  ~  ~  ~  ~  ~  ~  ~  ~  ~  ~  ~
Dear Friends of Desert Rain Zen,
It's time again to invite you to our Desert Sunrise Retreat, this year March 6-11. Registration will be due February 1. What an opportunity to gather and sit together as we come out of winter. Our glorious Spring will be well underway!
We'll welcome you to the Redemptorist Renewal Center, which sits in desert wilderness. Because of its history, the center houses an actual Zendo with a Zen garden just outside. Our walking meditation is sometimes around the garden, and long walks take us to intimacy with the land. The top picture on the attached brochure is the view from the Zendo picture window behind the altar.
Our rooms, all singles with their own bathrooms, are near both the Zendo and the dining hall. The retreat center prepares tasty vegetarian meals and provides us a private dining room.
The retreat brochure with registration form is attached (follow this link) and will be available at http://www.desertrainzen.org/ . Again this year, Desert Rain Zen is subsidizing the retreat in order to keep costs down. Take a look at the brochure for further information.
Please let us know as soon as you can if you're considering joining us or if you have any questions. And remember to register by February 1.   We are preparing for you!
Love,
Jen Sellers, Tenney Nathanson, and Desert Rain Zen
Jen Sellers:  jen@inspiredmastery.com | 520-229-8585
Tenney Nathanson:  nathanso@email.arizona.edu | 520-235-1267