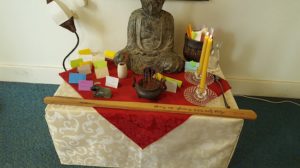 Dharma Talks and Koan Seminar at Spring "Bright Road" Retreat
This week, Springs Mountain Sangha will be gathering in retreat at the Franciscan Retreat Center, here in Colorado Springs. Everyone is invited to the evening Dharma talks Thursday and Friday. Also, on Saturday evening, is a Koan Seminar that all are invited to.
If you would like to attend, please arrive by 6:25 PM, so you can find a seat and be situated by the beginning of meditation at 6:45 PM. After the initial period of meditation, Dharma talks and discussion will begin, followed by meditation until the close of the evening, around 9:00 PM.
The Koan Seminar on Saturday evening will also begin with meditation at 6:45 (again, please arrive by 6:25).
Joining a meditation retreat for evening talks and Koans are a great way to support those in retreat. It's also a way to see what happens at our retreats; to dip your toe into the stream.
The directions to the retreat center are below. After turning into the retreat center drive straight west until you meet a parking lot. The Dharma hall is in the "Aspen" room, in a small building to the south of the main, "Francis Place" retreat center building.
If you get lost, please feel free to call Frank Actis, 719.332.5096
Directions:
Franciscan Retreat Center
Deer Hill Grove
Colorado Springs, CO 80919
USA
Directions from North or South on I-25
Head WEST on Woodmen (toward the mountains).
Go about 1/3 mile, stay in far right lane.
Look for small white sign that says Mt. St. Francis.
At the intersection of Windchime and Woodmen, you will make a right-hand turn.
Follow Woodmen approx. 3.2 miles and you will see the entrance to Mt. St. Francis on your left.
Enter the grounds and follow the signs to Franciscan Retreat Center or Francis Place.
You will stay straight and make no turns once on the property.
https://www.google.com/maps/dir/"/Franciscan+Retreat+Center+Deer+Hill+Grove+Colorado+Springs,+CO+80919+USA/@38.9489817,-104.945428,12z/data=!3m1!4b1!4m8!4m7!1m0!1m5!1m1!1s0x8713522489da5a2b:0xde529a72d557a429!2m2!1d-104.875388!2d38.9490026