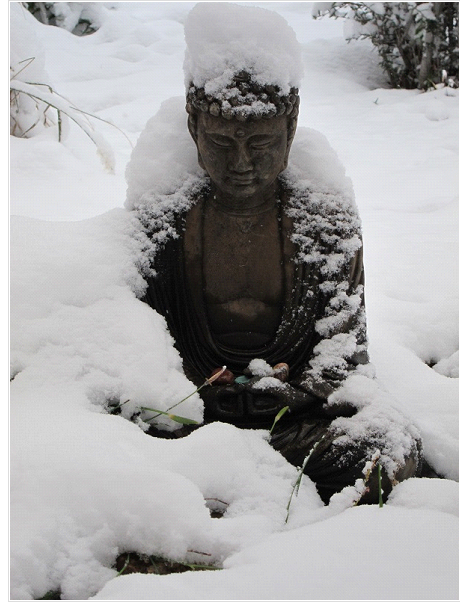 Ongoing Events
Newcomer Orientation: 2nd Monday of the month,
CC Shove Chapel, Dharma Hall upstairs at 5:45 pm for anyone who would like some orientation to meditation, to our tradition, or to our sangha and customs.
5:15 Dharma Study and Discussion before Monday night meditation.
These discussions  focus on supporting an ongoing practice in all of its aspects. Anyone is welcome to join in. This Autumn, we'll continue taking up koans from The Hidden Lamp, ed. by Florence Caplow and Susan Moon. Each chapter is self-contained, so you can join in at any time.
Place:  Shove Chapel downstairs from the north entrance.
Buddhism and the 12 Steps 
For more information contact Jacque Minehart at jqminehart.com
January
January 1st:  Sutra Service with a special celebration including music.
January 6th:  Zen Threads by Clay Taylor
January 8th:  Community Night, with Practice Period kick-off
January 15th:  Dharma Talk by Sarah Bender, Roshi
January 20th: WITR with Sarah Bender
January 22nd:  Dharma Talk by Sarah Bender
January 29th:  Way Faring Mind Talk by Camilla Fuller
Practice Period
Dear Sangha,
As I write this, the sun is shining brightly and it's quite warm outside! And snow will bless us this week, Guanyin's robe under which all are blessed.
I hope this finds you well, as we reach the shortest day and walk towards a new year.
We as a sangha will start the new year with Practice Period, 2018.  This is a time when we can renew our commitment to, and our reliance on, the practices of our Open Source Zen tradition.
This past Monday I gave a first talk of invitation to engage in the practice period, and laid out three of the themes that will run through my teaching during January and February.   You can find my talk here:  http://www.smszen.org/wp-content/uploads/2017/12/Sarah-Bender-2018-Practice-Period.mp3
 
Below you'll find information about offerings that will be available to you to support the deepening of your Zen practice.   A commitment form will be provided for your use in thinking about what time and energy you wish to commit to this process.  You'll be creating your own practice period, in company of your sangha-mates.  This can include a deepening of sangha relationships and support, as well as the practices you take up alone.

January 14, 21, 28             Sutra Study with Sarah Bender
February 4, 11, 25              Text:  The Diamond Sutra    (options to follow)
Sundays, 3 to 5 PM            Contact: Sarah Bender   sembender@gmail.com
Creek Bend Zendo             Suggested dana: $60 for the series
January 25,                         Introduction to Zen Practice with Sarah Bender and assisting members
February 1, 8, 15, 22
Thursdays, 7 to 8:30 PM     Contact: sembender@gmail.com
Shove Chapel                      Suggested dana: $50 for the series (CC students free)
February 16-18                  SMS Integrative Retreat
SMS Integrative Retreat
Friday evening, February 16 to Sunday afternoon,  February 18, 2018,
with Sarah Bender, Roshi
 Franciscan Retreat Center (FRC), Colorado Springs
$175 Full-time only, non-residential scholarships available
Registrar:  Robert King @ kingrh@comcast.net
registration deadline February 1, 2018 – firm!  
The Many Arms of Guanyin
As many of you know, a few of us within the Sangha have been developing a new project called SMS Action! The intent is to create access to causes that are important to us as individuals, and as a community. If you would like to see what we are up to and/or get involved, please take a look at the documents provided through these links.
Link to the activities sheet – https://docs.google.com/spreadsheets/d/1AQyuCqn0ELWIgwp2udsoBjeeUG7XYYBAFPzj8XNDMDI/edit?usp=sharing
Link to survey – https://goo.gl/forms/EYUpnKv5tDro4ZC02
Let me know if you have any questions, thanks!
Several sangha members have begun looking into ways we can support the Colorado Springs Sanctuary Coalition. If you would like to join us, please contact Sarah Bender sembender@gmail.com . 
Looking Ahead
Springs Mountain Sangha 2018 Retreat and Events Calendar
January
Jan 1                                       Meditation with music
Jan 8                                       Practice Period begins at Community Night
Jan 14, 21, 28                         Winter sutra study series
Jan 25                                    Intro to Zen class
7-8:30 PM, Thursdays, Shove side chapel
February
Feb 1                                       Intro to Zen  7:00 – 8:30, Shove side chapel
Feb 4, 11, 25                           Winter sutra studies series
Feb 8                                       Intro to Zen  7:00 – 8:30, Shove side chapel
Feb 15                                    Intro to Zen  7:00 – 8:30, WITR, Shove downstairs
Feb. 16-18                              Weekend Integrative Retreat with Sarah Bender to end practice period. Non-
Residential  Franciscan Retreat Center
Feb 22                                    Intro to Zen  7 – 8:30, Shove side chapel
March
Mar 4,11,18,25                         Koan series with Sarah Bender
Mar 6, 13, 20                            Refuge meetings
April
April 18-15                                Meditation retreat at the Abbey with Sarah Bender and Andrew Palmer
April 22, 29                               Koan series with Sarah Bender
May                                          Refuge group forms, looking towards October retreat
June        
June 8-13                                 Open Source four-teacher retreat in Oakland, CA
July                                         Meditation and Social Event with Wet Mountain Sangha?
August                                   Hike
September                            Weekend Intro
October                                Fall Koan Series
Oct 22-28                              Meditation Retreat at the Abbey
November        
Nov 11                                    All-sanhga meeting           
December  

Dec 7-8                                    Bodhi Day retreat
About Dana
We depend on the generosity of our members to support the work of our sangha. Donations are gratefully received in the Dana bowl in the alcove of the meditation hall in Shove Chapel. Also, everyone is invited to contribute flowers for the altar and cookies for Community Nights.
We now accept PayPal donations. You can get to the SMS PayPal link on the SMS web site at:http://www.smszen.org/donate.html or by selecting the donate icon: