Welcome!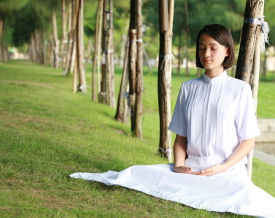 We are happy that you are interested in Springs Mountain Sangha. Newcomers are welcome at any of our meetings.
A brief orientation for newcomers is held on the second Monday of every month, at 5:40 PM in the side chapel of Shove Memorial Chapel.
If you join us for the first time on another Monday, please plan to arrive by 5:45 so someone can welcome you and answer your questions before meditation begins.
We try to hold a longer introduction to Zen every couple of months. These will be announced here on our website.
Meditation cushions and chairs are provided, but you are welcome to bring your own cushionor chair if you prefer.
Please wear comfortable, plain clothing, and remove or turn off anything that makes noise.
There is no fee for participation. A bowl for donations is near the hall, and donations are much appreciated
as they are our only source of funds for our programs.
More information
For information about the forms and customs of our sangha, please download this link:  Basic SMS Forms 2014.
If you would like to speak with a sangha member before attending, please contact info@smszen.org .
We look forward to meeting you!