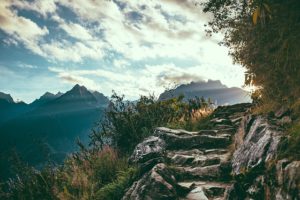 A Koan:  "Walk straight on a narrow mountain path with 99 turns
Right Under Our Feet
Meditation Retreat with Sarah Bender, Sensei
Saturday, March 4th
Franciscan Retreat Center, Colorado Springs
9:00 AM to 5:00 PM
Cost: $50
vegetarian lunch provided
The day includes sitting and walking meditation, a Dharma Talk and an opportunity to meet individually with the teacher.
Steve Milligan, Registrar  steve_milligan08@comcast.net
deadlines:  February 15th*
with lunch
and,
February 24th**
Late registration will be accepted between the 15th and the 24th.  You may still register for the retreat but will need to bring a brown bag lunch.
registration form:
http://www.smszen.org/wp-content/uploads/2017/02/UnderOurFeetMar4_reg.doc
With this retreat we begin to spend time with the teachings of Zen Master Linji (d. 866).  One of the most influential teachers of Chan Buddhism, Linji was known for his insistence on direct experience and the clarity of his presentation of the essential matter of our way.
For example, Linji said this:
"Right now, all this dashing and searching you're doing—do you know what it is you're looking for?  It is vibrantly alive, yet has no root or stem.  You can't gather it up, you can't scatter it to the winds. The more you search for it the farther away it gets. But don't search for it and it's right before your eyes, its miraculous sound always in your ears."
Want to take a listen?  Come join us.